Book Endorsements
Many thanks to the amazing scholars below who provided their time to read and comment it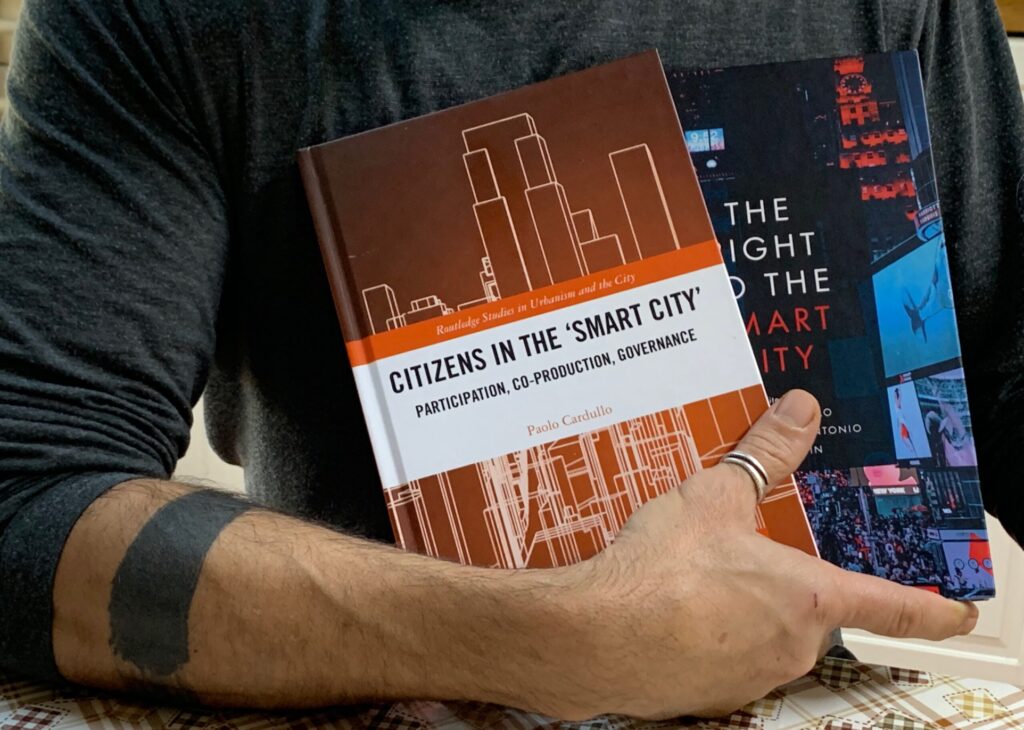 Citizens in the 'Smart City'. Participation, Co-production, Governance
 (2021) Routledge
The book would not have existed without the scholarly contribution they made to the 'smart city' and related fields… I was lucky to work with some of them or meet others in conferences and events around the world…
1. PROFESSOR ROB KITCHIN, HUMAN GEOGRAPHY, MUSSI, MAYNOOTH UNIVERSITY, REP. OF IRELAND
Through a theoretically rich and empirically grounded account, this book sets out how the technocratic and neoliberal smart city raises serious concerns with respect to citizenship and democracy and importantly how these can be challenged and re-envisioned. A vital read for policy makers and scholars interested in creating fairer, more just and intelligent cities.
2. PROFESSOR MATT FULLER, CULTURAL STUDIES, GOLDSMITHS, UNIVERSITY OF LONDON
This inventive and realistic book transcends the poles of doom or boom that often characterise the smart city debate to offer clear-sighted and thoughtful evidence from experience and research. Paolo Cardullo has wise advice for those thinking about and working on urban technologies.
3. PROFESSOR ALBERTO VANOLO, CULTURE, POLITICA E SOCIETÀ, UNIVERSITÀ DEGLI STUDI DI TORINO
Smart city thinking proved to be pervasive, invasive, ubiquitous: it is colonising urban debates, it is reshaping utopian and dystopian imaginaries of the cities of tomorrow, and it is changing the way we experience urban life and citizenship. Paolo Cardullo's book builds a solid counter-narrative, one that challenges conventional and celebrative understandings of smartness and technology, and one that helps in figuring out 'smart' alternatives. A definitive read for those searching for critical thinking about technology, politics and the city.
4. PROFESSOR ALESSANDRO AURIGI, URBAN DESIGN, UNIVERSITY OF PLYMOUTH, UNITED KINGDOM
This is one of those few books on smart cities that critically question hyperbole and fashionable trends whilst managing to propose practical ways forward towards the public good. Whether it is smart 'solutions', or the Living Labs mantra, Cardullo explores agendas and discourses in depth, with a constructive attention to what makes participation meaningful, and co-production of 'smart' real and relevant. Through looking at a series of international approaches, and the depth of a European case study, this volume constructively engages with policy-making for smart – or 'intelligent' as the author envisages – cities that really work for people.
5. CESARE DI FELICIANTONIO, LECTURER IN HUMAN GEOGRAPHY, MANCHESTER METROPOLITAN UNIVERSITY, UK
Paolo Cardullo's book is the result of several years of research on the complexity of problems posed by the 'smart city'. The book will be of cross-disciplinary interest and will appeal to scholars across the social sciences, Internet and technology studies, and anyone interested in unpacking the 'smart city' framework. Politically engaged, this informative book is recommended also for geography, planning and urban studies students.
6. PROFESSOR NANCY ODENDAAL, CITY AND REGIONAL PLANNING, UNIVERSITY OF CAPE TOWN, SOUTH AFRICA
This book makes an important contribution to the growing literature on smart cities, in that it gives critical insight into the cultural and political processes that underpin its policy manifestations. In many ways, it offers an alternative conception of this phenomenon, in that it challenges its inclusivity and seemingly ubiquitous nature, by exposing the political economy that drives many smart city visions. It goes a step further, in offering an alternative vision that imagines technology as a part of urban life, rather than the shaper of it.
7. PROFESSOR ANDREW KARVONEN, SUSTAINABLE URBAN DEVELOPMENT, KTH ROYAL INSTITUTE OF TECHNOLOGY, SWEDEN
The smart city is rapidly emerging as the dominant approach to urban development but it lacks a key ingredient: its citizens. Paolo Cardullo's book provides a biting critique of the contemporary neo-liberal agenda of urban digitalisation and then proposes the 'intelligent city' as an alternative approach to forward democratic principles of social capital, inclusion and trust. This book is essential reading for anyone interested in how cities of the future could and should be governed.
8. PROFESSOR RAMON RIBERA–FUMAZ, DIRECTOR OF THE URBAN TRANSFORMATION AND GLOBAL CHANGE LABORATORY (TURBA), IN3, UNIVERSITAT OBERTA DE CATALUNYA, BARCELONA
This is an outstanding and original essay on the relation between digital technologies, urbanism and democracy. Grounded on years of researching smart cities across the world, Paolo Cardullo does not only present a reliable analysis of the conflictual relation of smart city projects with democracy and social justice. He also builds a rich theoretical, empirically grounded, road map towards a more democratic city, towards the intelligent right of the city. A book that not only understands the city but helps to change it.
9. PROFESSEUR OLA SÖDERSTRÖM, INSTITUT DE GÉOGRAPHIE UNIVERSITÉ DE NEUCHÂTEL
'Citizens in the Smart City' is a brilliant dissection of contemporary data-driven urbanism. Cardullo takes the reader through an impressive journey from the neoliberal smart city, where citizens are reduced to data points, to a truly intelligent city which foregrounds digital rights and technology for the common good. Based on a rich texture of empirical work, this book provides a much needed more-than-critical analysis of the contemporary smart/intelligent city.
kiddingthecity is…
…a webspace created by Paolo Cardullo in 2007 during his PhD at Goldsmiths University of London. It has gone through a few updates building up on new projects and publications