Community wi-fi mesh in Deptford, London (2008-2014 ca.)
OWN was a mesh of Wi-Fi radios set up by James Stevens and SPC in 2008 in Deptford, London SE8, an innercity borough with a history of migration and working-class labour stretching to the imperial docks. Deptford features vast council-owned housing estates, housing associations, and still affordable solutions for students from the near Goldsmiths, University of London. OWN picked to more than 400 daily users and about 100 nodes, a few years ago. Due to funding and time constraints, as well as to the less stringent digital divide brought by 4g phones and flexible broadband provision, OWN was temporarily abandoned in 2014.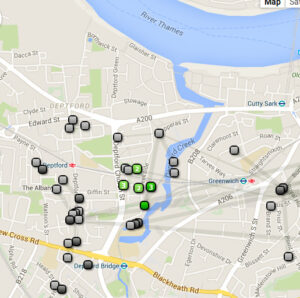 OWN set mostly around the Creekside, where the river Ravensbourne touches the strong tides of the nearby Thames. This is the latest gentrification frontier in SE London, with developers putting a lot of emphasis on the 'cultural quarter': Deptford is now said to be second only to Shoreditch for number of artists, studios, and exhibitions. In this controversial and evolving scenario, OWN provided free access to the 'commercial Internet' plus the possibility to experiment with mesh networking for local residents.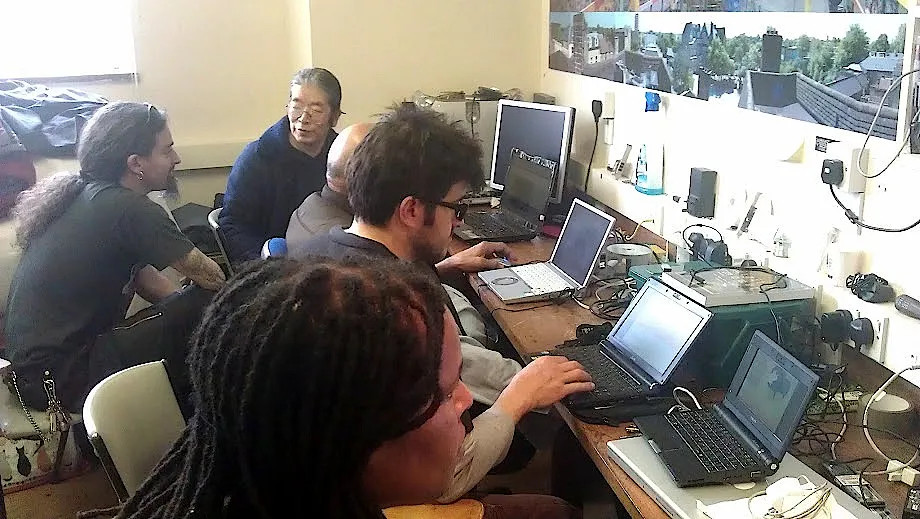 I was fortunate enough to be part of the early stages of this evolving network, hosting a node in my own flat for a few years, and participating to the weekly drop-in workshop called 'Wireless Wednesday'. I have written a paper on the connections between wireless proximity and anonymity – published as a book chapter for Communicating the City (Peter Lange); and another one discussing the intricate connections between gentrification and the independent wireless network – this is now published as 'Gentrification in the mesh? An ethnography of Open Wireless Network (OWN) in Deptford', City (Routledge). The paper narrates a social history of OWN and the gentrification of Creekside →Download the pre-print
kiddingthecity is…
…a webspace created by Paolo Cardullo in 2007 during his PhD at Goldsmiths University of London. It has gone through a few updates building up on my projects and publications